HOME > ARCHIVED NEWS
CURRENT NEWS - ARCHIVED NEWS
10/6/2004 - OFFICIAL: RAZORBLADE MONALISA PROJECT FINAL - NEW PROJECT
It's been more or less decided that the nine tracks that make up the "Bleed" album so far will be it for RM - at least for now. I've started working with singer/lyricist Bino Prassa on a new project, you can get further details, and download the first song here. So far the (nearly) two completed songs are songs originally written for Razorblade Monalisa, but lacked good enough vocals/lyrics. I'm very pleased with what we have so far. I think Bino's singing is VERY much like mine in style, but I doubt anyone would have a hard time telling us apart.
Hopefully this site will undergo a few alterations in the future to make things less scattered, but right now the music is what is important.
06/27/2004 - BLUE MONROE "FALLEN ANGEL E.P." + 1 MP3'S ARE UP.
Probably the release of Blue Monroe that I'm most proud of is up on the MP3 archives, plus the unreleased "No Second Chance" recorded shortly after the E.P.
04/28/2004 - BLUE MONROE MP3'S ARE HERE!
A good chunk of the first Blue Monroe album is now available to download here. Expect the "Fallen Angel" E.P. soon...
07/27/2003 - UPDATE, ARCHIVE OF OLDER SONGS NOW AVAILABLE.
Quite honestly, nothing much substancial has been going on lately for me in music. I've been focusing on other things these days.
However, I just uploaded a bunch of older songs from 1993 - 1997, and will be uploading more as I can. Goto the MP3 Archive page to have a listen.
04/09/2003 - THE BETHANYS, BLUE MONROE, AND DEMON EYES SITES ARE BACK UP.
Head on over to the links page to check out the old sites.
Word of warning: these sites are put up more or less "as is". I wont be adding content or correcting anything beyond what I have already done. I expect most people would go to these pages just for the pictures.
03/25/2003 - HIGH QUALITY "PAIN RELIEVER" AND "BLEED" COVERS AVAILABLE.
Zipped high quality (300 pixels/inch) BMPs of the two Razorblade Monalisa CD covers are available on the downloads page.
Please note... the "Bleed" album is still being worked on, I have one more song to complete (it is on the way soon) so the "Bleed" covers will change.
03/13/2003 - NEW SONG "GOT A GIRL" UP! / SITE NEWS.
Go to the downloads page or click here to download the track directly.
I found the the rhythm guitar and drums on a old minidisc about 3 weeks ago, I totally forgot I ever recorded it. The drums are the same as the ones on "Bleed", so it could be a early version of that song. In any case, I ran with what i got and wrote new lyrics, added bass, acoustic guitars, crunchy rhythm guitars and some keyboards.
The lyrics (and the song) are a evil little cousin of "Bleed". Instead of "You look good in that white dress... I want to make you bleed" we have "...all dressed in black... she says 'you better not fuck around on me' ". I've always thought women (especially pre-adult) have a capacity for destructive behavior rivaling, if not surpassing, men. The "girl" mentioned in the lyrics does not exist in real life, as far as I can tell, but she is a combination of a few women I know and quite a bit of someone I don't.
I am currently working on the last song for the album, it has rhythm guitars and drums already recoreded and lyrics written. Hopefully I will get the album in the can by this time next month at the very latest.
SITE NEWS...
I just redesigned the index page and the old pages for the Bethanys, Blue Monroe, and Demon Eyes are on the way back. Since I've taken those pages down I've been upgraded to 300mb total available space on my domain, and now have enough space to do anything I want.
06/13/2002 - NEW SONG "ATOM BOMB" IS UP!
"Atom Bomb" is now available for download on mp3 format. Go to the download page and check it out.
I'm still not 100% happy with the title, so it may change... but the song is done. This one took about 5 weeks from start to finish, and I am quite happy with the way it evolved during that time. What is there to say? It is very RM, a close sister to "Bleed" and "Dead in the Springtime". It is catchy, bouncy, very danceable and it rocks. I particularly like the singing on the chorus.
It's very obvious my vocals as well as my writing / recording skills have improved greatly since Blue Monroe. Having time away from other musicans and not having to work 60 hours a week really does help.
The album is now only 2 songs away from being finished. And from what I have now, it sounds very much like a "best of".
03/07/2002 - NEW SONG "NEW SKIN" IS UP! - MORE BETHANYS NEWS
"New Skin" is now available for download in mp3 format. Go to the download page and check it out.
One of the last songs written for Blue Monroe (in 1998), "New Skin" never really seemed finished to me. I thought Chris Howard's vocals never seemed to work, and the music seemed like it needed more... and it didn't deserve to never be released.
The co-lead vocals this time are handled by Katya Vettchinkin of Mercy Suite and Voiceless, and I added a lead piano with a leslie speaker effect. While still seeming somewhat stripped down, it sounds a lot more finished than the original. Maybe in another 4 years i'll do another version. ;)
You can listen to the original version at the Blue Monroe MP3.com site.
THE BETHANYS MP3.COM NEWS
The "Excursions into the Wasteland" CD is now available for purchase at MP3.com. Click here to view.
03/06/2002 - NEW BATCH OF BETHANYS MP3'S ARE UP!
The new MP3's comprise the bulk of the "Excursions into the Wasteland" (1996 - 1997) album. Go to MP3.com and play them often!
There should be a CD available to purchase through MP3.com of "Excursions into the Wasteland" by next week.
02/20/2002 - NEW SONG "DEAD IN THE SPRINGTIME" IS UP!
"Dead in the Springtime" is now available for download in mp3 format. Go to the download page and check it out.
Not a lot to say about this one, really. It rocks. It took about a month from start to finish, mainly because my mini-disc recorder ate the disk when it was nearing completion about 3 weeks ago, so essentially i recorded this song twice. The vocals sound like an odd mix of Billy Corgan, Ian Curtis, and Bernard Sumner, but of course a great deal of me thrown in. Warning... if you hate screamy vocals you probably wont like this.
The lyrics are very open to interpretation. I am usually somewhat evasive in my lyrics, but this song takes that to a whole new level. Some people say I constantly contradict myself, but I think I just see many sides... Most truths are like that: dependant on point of view.
NOTE: I had to take "Dead" down for a couple hours to fix a vocal glitch that occured while mixing. It is back up, and correct.
02/13/2002 - NEW MUSIC NEWS - THE BETHANYS ARCHIVES AT MP3.COM.
Work is nearing completion on the new song "Dead in the Springtime", and it looks to be another great song. It's the vocals that are keeping the song up again. I hope to have it finished and uploaded sometime between this friday and a week from now, so keep checking back.
Also in the works is a new version of "New Skin" with Katya Vettchinkin on vocal duties, which should come out soon after "Dead in the Springtime" is uploaded.
I have firmly decided to make the next Razorblade Monalisa release a mini-album, with "Thirteen" and "Pain Reliever" making another appearance in addition to "Abortion is Mercy", "White Heat", "Bleed", "Dead in the Springtime", and "New Skin". "In a Lonely Place" will only be available as a bonus track on the limited edition pressing (which is usually free, and only goes out to my friends) as mp3.com doesn't allow cover versions on CD's available through them. There is still one slot open for another original song... after that is written the CD will be ready for burning.
As a taster here is a mock up of a possible cover (with me behind the camera/designing). Don't know if I am happy with it, but here it is:
MP3.COM NEWS
The vast archive of The Bethanys material (80+ songs) will see some kind of daylight soon on http://www.mp3.com/thebethanys/. Only 2 songs are up as yet... "Blowout" was one of the last songs written as "The Bethanys", and "Skin" featured my first vocal work. I have been slack with getting the songs uploaded, but I promise to try and do better in the future.
DECEMBER
12/21/2001 - RAZORBLADE MONALISA NOW ON MP3.COM.
http://www.mp3.com/razorblademonalisa/
Yes it's official. I have sold my soul to the corporate whore website! I am not happy about this, but as I can't put any new songs up till I take some off of this site, I have decided to take this devil to bed. "Thirteen" and "Pain Reliever" are both up, and "Abortion Is Mercy" will be available soon. Cover songs are not allowed, so "In a Lonely Place" will reside here.
12/16/2001 - NEW SONG "BLEED" IS UP! - SITE NEWS
"Bleed" is now available for download in mp3 format. Go to the download page and check it out.
This song started as just a throwaway, something to do. I wanted to make something ugly. The lyrics were as distasteful and common as I could make them, the rhythm guitar seemed to be soaked in dirt, and the drums were dashed off in a minute. Some how when everything is added together it becomes a lot more than the sum of it's parts. In fact, most of my songs are that way. Take away any one part and it just doesn't sound the same. What made this song for me was the icy wah guitar lead, it binds everything together and makes the song say something.
The lyrics aren't all that bad, i quite like them. I hate explaining lyrics, but this song deffinitely seems to be about wanting to dirty something pure. "You look good in that white dress... I want to make you bleed".
So in the end, I didn't make it ugly. It's very danceable too, which is rare for my songs.
A note about the singing... yes that is me singing the high backing vocal part (sounds a bit like D'arcy from The Smashing Pumpkins). That is my "natural" voice, no effects to take it to a higher register. I do have quite a vocal range when i choose to have one. The song just doesn't sound the same without that backing vocal.
This one is deffinitely a keeper, as is "White Heat". The song has grown on me in the last month and goes well with "Bleed". They are very much from the same cloth. They will both deffinitly be a part of a future RM release.
SITE NEWS:
I have updated the Blue Monroe page, included some additional pictures and included some better quality prints of the blue monroe covers.
I have also finally got the Demon Eyes page up. Thank you Brent for sending me some high quality JPG's of the "Stark" covers.
RAZORBLADE MONALISA ON MP3.COM:
As this site is limited to about 30mb of data, i will be moving some songs to MP3.com to free up some space for new material. The address will be http://www.mp3.com/razorblademonalisa/ tho it isn't working as yet. MP3.com works very slowly unless you pay them, and i'm just too poor for that.
Due to the fact that I have such limited space, I was forced to take down "Abortion is Mercy" in order to put "Bleed" up. Hopefully "Abortion is Mercy" will appear of the MP3.com site soon.
11/23/2001 - NEW SONG "WHITE HEAT" IS UP!
"White Heat" is now available for download in mp3 format. Go to the download page and check it out.
The lyrics are throwaway as far as I'm concerned. The "white light / white heat" refrain is an obvious tip of the hat to the Velvet Underground (and the James Cagney movie "White Heat"), and the rest is just jibberish. Someone will make sense out of it, they usually do.
To be quite honest I doubt that this song will make the cut for the next E.P. if it ever happens... I am being very critical of the music I produce now, and this one just doesn't live up to the standards of "Pain Reliever", or "Thirteen". But it does seem likely to be played live.
And as far as the next E.P. is concerned, don't hold your breath. Hopefully there should be some live shows in the spring, however.
8/4/2001 - TRINITY COVER.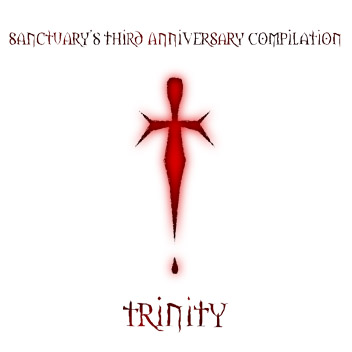 The new Sanctuary compilition "Trinity" is being released today at the clubs third anniversary ball. I'd been asked to design the cover at the spur of the moment last friday, as the original designer was unable to complete the project on time and well... 2 days was all I needed. Once i found the cross/dagger/person image I had lots of fun trying to add it to different images, but none seemed to work out. Tho sparse, I do like this design as is. "Elegant simplicity" is what i belive it described it as. That red is deffinitely my favorite color.
JUNE
6/21/2001 - NEW SONG "A_I_M" IS UP!
A new song "A_I_M (Abortion is Mercy)" is up on the download page! Reminds me a little bit of Love and Rockets.
It's doubtful if it will be included on the next EP, it's just a product of some pissing about with my recorder for an hour. No electronics were used at all besides a distorion and delay box. The precussion was a guitar slide hitting various places on a microphone stand.
The second part of the lyrics (starting with "culture of apathy") is one set of the original "Pain Reliever" lyrics, the "end of the dark days" part i just ripped off from "Thirteen" and I wrote the "I can't breathe anymore" part on the fly, as they say.
This was just for fun, but i thought I'd go ahead and put it up anyway. Enjoy.
6/6/2001 - NEW E.P. PROGRESS REPORT
Yes work is finally underway for the follow up to the "Pain Reliever" E.P. Two new songs were written in the last 3 weeks which I am really excited about.
The first one called "Isn't It Beautiful" was written under the influence of J.D. Salinger's "The Catcher in the Rye" (thanks stef). It's more or less about how the everyday life and hopes of most people are illusory and meaningless, something i heartily agree with. The music is across between "Thirteen" and "Pain Reliever" with a bit of Blue Monroe's "New Skin" thrown in.
The second one is provisionally titled "Cannibalize" and by far the most ear splitting psychosis inducing music I've written since "Rag Doll's Eyes" and it even makes that song sound like "MMMBop". It's REPETITIVE and it's supposed to be that way. The music... well, lets call it what it is... noise spins around in a never ending loop. The beats are manic, you can't really dance to it unless you are flailing around as if in a fit. The words I don't like to go into too much detail at this point... but lets just say it's about love, it's a love song. You'll just have to hear it to know what I mean.
The rest of the E.P. will probably be taken up by a re-recording of "Don't Bother to Knock" that I've been meaning to do for a while and a cover... most likely "Working for the Man" by P.J. Harvey.
Time frame for it's completion? Who knows. I'm aiming for August, but as usual, it ain't going out until I am totally satisfied. Hopefully I will also have a live band to back the E.P. whenever it is completed.
4/13/2001 - DEDICATION TO JOHNNY
I didn't want to say it or have it listed on the sleeve at the time, because I thought it might have been insensitive, but the song "In a Lonely Place" is dedicated to good friend Johnny Gamma who died recently.
He left behind many friends and a few people that considered him their best friend. He certainly made my life a lot easier at a time when I desparately needed someone to listen and just be there for me. I still can't believe he is gone sometimes, in some ways I think he is still here.
After he died i re-recorded the lyrics to "In a Lonely Place" and changed a few words, most notably "How I wish you were here with us now", which wasn't there before. My singing was slightly different and I was singing it to Johnny, maybe not the whole song, but in parts of it he was deffintely in my heart.
So Johnny, love you man, and i'll get plastered tonight in honor of you,
Jules.
4/9/2001 - NO THIS ISN'T RM NEWS, BUT THOUGHT IT WAS INTERESTING...
Xoom.com is going under as it's parent company NBCi gets absorbed by NBC. Xoom was the webhost for the original blue monroe/Blue Womb Records site, until they started putting those horrible adds at the top of each and every page. Bye-bye Xoom can't say I will miss you...
3/23/2001 - "IN A LONELY PLACE" IS UP! THE PAIN RELIEVER E.P. IS COMPLETED!
A long time in coming I know, but the first RM product is now complete. I'm very happy with the end result, there isn't one weak song among them.
Go do the "Download" page to get MP3's.
"Thirteen" is probably my favorite, it really must be heard at a club or on a REALLY good stereo to be appreciated, especially the howling chorus that makes your ears bleed and your brain turn to mush if you get too close.
"Pain Reliever" itself is quite a song. This was the song that took 5 months to finish, and it did evolve quite a bit during that time. It had no less than 4 different sets of lyrics and had quite a few different lead guitars at different times. In retrospect I wish i had some lyrics for the chorus, but there seemed little point to add anything for the sake of having words there.
"In a Lonely Place" is quite different from the version currently available on the New Order "Substance" CD. I kept only the lyrics and added all new music. It really is a different song, but still has that Joy Division feel to it. You can't really compare the 2. My version, tho it doesn't seem it, is actually SLOWER than the original by quite a bit. It seems faster because there are more notes crammed into the same space. The most noticeable thing is the lead bass, I'm sure Hooky himself would drool over it. Reminds me of "Unknown Pleasures". The lead guitar on this song sounds a lot like keyboards thro most of the song, it's the last instrument in the fade out.
So what's next? I'll be looking for people to fill out a live band and start work on the next E.P. at the same time. Hopefully i'll have the new E.P. finished by the time the live band is ready for a show.
I have another cover or 2 planned for the next E.P. I've been wanting to do a version of the Smashing Pumpkins song "Ugly" (from the "1979" single) for some time, and the laid back "Working For the Man" from P.J. Harvery's "To Bring You My Love" CD. They are PERFECT for me to cover because the music is almost non existant. Plenty of room for changing things around, and neither song is a defining one for the artist; much like "In a Lonely Place" for Joy Division. I've had an idea for a song called "Guns For the Young" for a long time, and my guess is that's probably going to be the E.P. title.
There are 3 nearly complete songs in addition to the 3 completed songs in the "Pain Reliever" sessions as well. When or if these 3 will ever see the light of day is doubtful, which is a shame because they are probably some of the best songs I've even written. The sticking point with 2 of them is lyrics/singing. Maybe I'll get something to work someday.
Will keep you posted, as always.
2/27/2001 - "PAIN RELIEVER" AVAILABLE NOW!
Go to the dowload page to get yourself a copy.
2/26/2001 - NEW SONG "PAIN RELIEVER" AVAILABLE AS MP3 ON FRIDAY 3/02/2001, NEW SITE...
SITE NEWS
Thanks to my sister my computer is now up and running. I'm still installing software in it, the sound card is in and functioning perfectly so expect a new MP3 on friday!
I've got a new guestbook up and running and you can now keep track of my new material via the "download" page. Some links don't work as yet, but they will soon.
E.P. NEWS
2 songs are now complete and I am working on finishing up one as an instrumental and am going to attempt to record my version of "In a Lonely Place" by New Order, with COMPLETELY NEW MUSIC. The new music is still very Joy Division / New Order esque but it's more rock than goth. I might even dare say it's better than the original.
11/29/2000 - SLOWLY COMING TOGETHER
E.P. NEWS
Yes i know this is starting to look like the phantom EP by now but progress IS being made. Here is where it stands:
TRACK 1
Completed and ready for download ("Thirteen"). See below. The song was given it's first public airing at the club Sanctuary. I was nervous about the mix, but it growled, hissed and spit at everyone, I am QUITE pleased :)
TRACK 2
All rhythm guitars and drums recorded, lyrics are the sticking point here. Nothing seems to work. Lead guitars have been written, but not recorded yet. This one sounds like a cross between Jesus & Mary Chain and Smashing Pumpkins, and VERY poppy in it's own way.
TRACK 3
All music but bass recorded (bass is usually the last thing recorded on my songs). Lyrics have been written also, but at this point i can't seem to be able to record vocals to my satisfaction. This one is a quintessential "Jules" song. It's got those odd simple lead guitars that run all thro the song (I usually don't have a "lead section" per se. and the leads are simple so they don't overpower the lyrics). It does bear a striking resemblance to "I Love/Hate You" (blue monroe) in many ways, but a lot less goth and a lot more pop/rock. Again there is a hint of a Smashing Pumpkins influence. LOUD/soft etc.
TRACK 4
All drums finished, guitars a bit iffy. I may need to re-record them. This is actually the oldest song of the bunch. Sounds a bit like "Rag Doll's Eyes" (blue monroe) crossed with "Fuck You" (the Bethanys, later recycled for blue monroe). Marilyn Manson would go apeshit over the music. Hope that doesn't put anyone off. ;) Evil grinding Black Sabbath guitars with the trademark Jules weird guitar stuff over the top. If tracks 2 and 3 don't make the EP this one sure will. As a taster here are the lyrics:
PAIN RELIEVER
By: Jules Alcouffe
Walking around with no thought in my head
Touching the places where I felt less dead
Looking for a trace of you
To pull me out of this
Wasting my time in this hell
Waiting for a sign you still care
Nothing is what I kept from you
Is what I got from you
What I got from you
Is what I got from you
What I got
WE ALL HATE
Wishing I could still touch your heart
Groping for the heaven that was there in the start
Hoping for a glimpse of you
To make sense of all this
Ruined, raped and torn apart
Conditioned to accept cancer in my heart
Wonder if I knew you at all
Ever knew you at all
WE ALL HATE
The lyrics aren't about any one particular experience, and aren't necessarily about me. Slightly inspired by "Nexus" by Henry Miller and my own bad experiences. The "we all hate" part was inspired by the music. Even without the words there you can HEAR those words. It's something to do with how the guitars mesh with the drums. Damn eerie when I first heard it.
OTHERS
I still would like to re-record "Don't Bother to Knock" for the EP. I'm also considering reviving a unrecorded blue monroe song called "It's Not Ok" for the EP. Right now I'm looking at whether I want the EP to be eclectic or more industrial. Leaning towards the latter right now.
That's it for this month. Hope to have at least one track completed by the end of next month... but you know how it is. It ain't going out unless I'm completely satisfied with it.
10/29/2000 - NEW E.P. UPDATE, MISC NEWS.
E.P. NEWS
Work is still sporadically on going on the E.P. Some songs staying, others just not working out. So far "Thirteen" is the only finished song, updates will continue to be monthly whether there are new songs or not.
COMPUTER WOES
The computer used for mastering and production of CD's and mp3's was fried in a lightning storm near the beginning of the month, and still no replacement. (I'm currently using a laptop.)
BAND NEWS
It appears that Demon Eyes has met with an untimely end, it's a pity such a creative fresh band should implode so early. I hope you enjoy it while it lasted. I certainly did.
No firm news on who else is joining RM either as live musicians or band members proper. Will keep you posted.
9/26/2000 - NEW RAZORBLADE MONALISA TRACK "THIRTEEN" AVAILABLE NOW IN MP3!
Click here to download the song. (If your computer is anything like mine you may need to right click on the link and choose "Save Target As". )
Here are the lyrics:
THIRTEEN
By: Jules Alcouffe
End of the dark days
End of the dreams of skin
End of the loss and the empty sky
End of the love of HIM
Faith
Hope
Love
End of the virgin in white
End of throwing sticks in streams
End of warm summer days
End of the last goodbye
End of shivering and hate
End of the movement of fear
End of washing away the blood
End of days of waiting for
Faith
Hope
Love
DEATH
EXPLATIONS:
No this ISN'T the song mentioned in August's news update, but a completely new one. THIRTEEN is simply the number of letters in "faith, hope, love". Speaking of which those 3 words come directly from the bible - "...and now remaineth faith, hope, love, these three; but the greatest of these is love."
LYRIC NOTES:
"...the empty sky" a reference to a Sylvia Plath poem "I talk to God but the sky is empty" / "...love of HIM" HIM is my slang for God. God a he? Not sure. / "...virgin in white", "...sticks in streams", "... warm summer days" faded innocent pictures of childhood. / "...last goodbye" is a Jeff Buckley song :) / "...movement of fear" a Tones on Tail one :) / "...washing away the blood" I cut my left pointer finger pretty badly while cleaning house yesterday. / "DEATH" this was a half mocking retarded scat. i.e. spur of the moment. I'm not going to give such detailed explations of my lyrics in future, I just thought you might like a peek into my writing methods. And quite frankly, hardly anyone ever tries to figure out lyrics anyways.
Again this song is in CD quality mp3 to make it easier to burn to a CD for those with burners. Not only will all songs from the E.P. be uploaded in CD quality mp3's but you will be provided with high quality JPEG versions of the front and back cover so you can print them out yourself. I happen to think that people being able to have a CD of my work for completely FREE is a good thing. Just go to my concerts, ok ;)
NEW E.P IS ON THE WAY...
MOMENTUM is gathering pace on the PAIN RELIEVER EP by the week. The first song (as yet without a title) can only be described as a barnstormer, LOUD guitars and some pretty nifty leads too... more hooks than a tackle box. Somehow the word "catchy" doesn't even come close. The sound is across between blue monroe and the Bethanys, tho more Bethanys than monroe. Even tho I'm saying this myself, it's got the word "comeback" written all over it. And if you know me, you know that's saying a lot, usually the most i would say is it's "OK", but i am SOOO looking forward to playing this live.
Expect a CD quality MP3 (so you people with CD burners can make pirated copies ;) to be uploaded as soon as i get everything perfect.
This EP is taking a long time, and i apologize on it's tardiness; but this is the start of a new band and i want to get things off on the right note. I know probably few people will hear the EP, but I've never thought on the small scale. I would put this music up against anything that was made in the last ten years BY ANYONE.
I am also planning to re-record "Don't Bother to Knock" for the EP, yeah it's an old song, but it fits the new material like a glove.
One final thing, the music I'm making now is REALLY geared to be played live, so expect RAZORBLADE MONALISA to be coming to a town near you (if you live in Northern California that is heheh)
CURRENT NEWS - ARCHIVED NEWS